Have you ever savored a prime rib that simply dissolved in your mouth, leaving you wanting more? Have you ever relished a dish so delectable and flavorsome that it left you completely satisfied? Have you ever indulged in a dining experience that made you feel like a valued VIP?
Weber's Restaurant in Ann Arbor features the area's finest prime rib, steaks and seafood. Try our prime rib of beef, scented with a sprig of house-grown rosemary and steaming hot au jus poured over the rib table side. You'll find your prime rib accompanied by an earthenware crock of au gratin potatoes and a newly improved creamy horseradish dressing.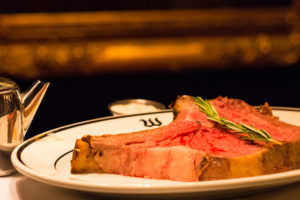 According to an article written by Nino Salvaggio International Marketplace, "It was picture and palate perfect. The Au Gratin Potatoes were everything you'd hope for—creamy, not too cheesy, firm slices of potatoes and seasoned well.  With my rib, I enjoyed a sample 3 red wines from their extensive and very reasonably priced wine list. They all complemented the kitchen's choice very well."
Satisfied Customers Leave Their Reviews:
"Super attentive staff make your dining a wonderful experience. And extremely well stocked bar for artisanal cocktails and many popular beers and an extensive wine selection. The lunch and dinner menus are reasonably priced and the food is outstanding. Although it has been around for years it is very tasteful decorum. They make all kinds of accommodations and strive hard to please. Highly recommend this place."
Pat Izzo, Google Review
"The BEST classy restaurant/bar that has it ALL! Great food, fantastic service, endless spirits, and the ultimate in performing bands that light up their dance floor! Never fails to accommodate a terrific time regardless any special moment you are trying to capture."
Kim Martin, Google Review
"Awesome place! Been patronizing them for almost 30 years, never had anything less than outstanding quality food, wine or service. Highly recommended."
Al Cavasin, Google Review
Steakhouse in Ann Arbor: Make Your Reservation Today!
Whether you're looking for a fun weekend getaway, a romantic night away from home, a place to host a family from out of town, or the best steakhouse in Ann Arbor, Weber's Restaurant & Boutique Hotel is here to serve you.
Give us a call or make your reservation online today.